Upholstery Cleaning Service Riverside
Upholstery Cleaning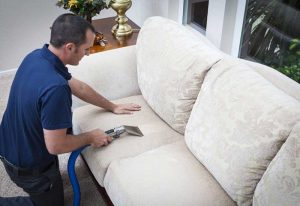 We all have that favorite piece of furniture with just the right padding, fabric or leather covering that suits us perfectly on a lazy day or even a stressful one. Preservation of these pieces of furniture should be sought after and executed by weekly cleaning, but it also greatly helps to have them professionally cleaned by the best upholstery cleaning service company in Riverside every so often.
If you want the comfort, and cleanliness of your upholstery to last for years on end, you must make sure the upholstery cleaning is done properly. Some stains you can attend to yourself, but other stains will set in, and likely lead to more damage being done to your furniture. If you don't act quickly enough, the stain will sink in and continue to ruin your upholstery.
We can thoroughly clean your couch, chairs, love seats and sofas. Whether it's your latest purchase, a thrift store bargain, a family heirloom or a piece of furniture in mid-stride, our dedicated and highly-trained, IICRC certified staff will revitalize each piece with focused care. Even before beginning the cleaning procedure, our staff will intricately inspect the fabric, and even the construction, of each piece before an appropriate method is chosen for the particular furniture upholstery, whether it's a residential or commercial setting.
Every piece of upholstered furniture requires very particular care, and we have the training and tools to provide the appropriate touch. Our technicians are certified to take on many tough-to-clean materials, such as suedes, ultra-suedes, silk, and velvet. In addition, we offer the service to deodorize, as well as the option for protective coating if desired. We guarantee that your upholstery will be cleaned to your satisfaction because your satisfaction triggers our own.   To back our commitment to outstanding service, every job we do comes with a 30-day guarantee.
The Process
Inspect: We will conduct an inspection of the upholstery to determine type and areas that are stained. We will evaluate your piece of furniture's construction thoroughly, making sure to form our game plan correctly.
Brush: From there we will do a brush of the upholstery with a soft brush, as not to damage any part of the furniture. The light brushing will loosen any dust and particles stuck on the surface and in the crevices of the furniture.
Rinse: We will then rinse your furniture with our high-tech machine where we can adjust the amount of pressure of the water to fit your particular type of upholstery.
Wipe: From there we will wipe your furniture down and dry it with high-speed blowers for an amount of time as we see fit.
Deodorize: We offer to deodorize your upholstery if you so desire and also offer to add protective coating after we are done with the cleaning procedure for your upholstery.
Preparing your home for a Made EZ Carpet Care upholstery cleaning
Step 1: Remove clutter
The Made EZ Carpet Care upholstery cleaner will need to be able to maneuver around the pieces of furniture he is cleaning, so removing clutter on both the floor and the furniture itself will go a long way towards ensuring that the cleaning goes smoothly. Items like shoes and toys on the floor can cause a tripping hazard, and blankets and other items on the furniture can get in the way. If you set these things aside before the technician arrives, they will not be underfoot, and the upholstery cleaner can finish his job quickly, allowing you to resume your regular routine that much faster.
Step 2: Move furniture away from walls
In order to clean the upholstery on your furniture as thoroughly as possible, our upholstery cleaning technicians need to be able to access the entire piece. Even if it seems like it's not necessary to clean the entire piece of furniture due to the back being pushed up against a wall, only cleaning one part can lead to your upholstery being discolored and splotchy should you ever move the piece to another location. If you move the furniture a few feet out from the wall, the Made EZ Carpet Care technician will be able to reach the less accessible parts of your furniture and deliver a thorough couch cleaning.
Step 3: Take note of particular problem areas
Our cleaners are very thorough, but different factors such as lighting and shadows can disguise blemishes and hide problem areas from view. Make note, beforehand, of any spots that you believe could use extra care and be sure to point them out to our technician when they arrive.
Step 4: Clear a path for easy access
Our upholstery cleaners need to be able to get their equipment to the furniture, so take a few minutes before they arrive and make sure there is a clear path from the front door to the room where they will be cleaning. Not only will this help our technicians from the best upholstery cleaning service company in Riverside complete the job in a timely manner, but it will lower the risk of tripping on anything as they transport equipment to and from their vehicle.
Step 5: Prepare pets for the visit
While we know you love your pets, a visit from a stranger with big equipment and lots of new smells and sounds can agitate them. Make plans for how to keep them somewhere out of the way, like a yard or closed in another area of the home, so that they are not overly bothered by the technician's presence, especially if the job is to remove those pesky pet stains and odors. This will also keep them out from underfoot, meaning the technician can finish his job more quickly and allow you to return to your regular routine as soon as possible.
Upholstery Cleaning Service
Our upholstery cleaning service is proven to leave your couch and furniture looking like new again! We use proven cleaning techniques and methods to leave them spotless and smelling great.